FOR THE ULTIMATE PEACE OF MIND: PROGRAM INFORMATION
The pandemic has made us take more control of health and investment for the future. Anticipating the needs of customers, Masterise Homes and Techcombank collaborated to present the program For the Ultimate Peace of Mind with Manulife Privilege Insurance package ("Privilege Insurance") as our gift of gratitude. The Privilege Insurance encompasses multiple values which provide our customers not only with protection and peace of mind during this uncertain time but also a valuable investment in health, finance as well as the future of their family and assets.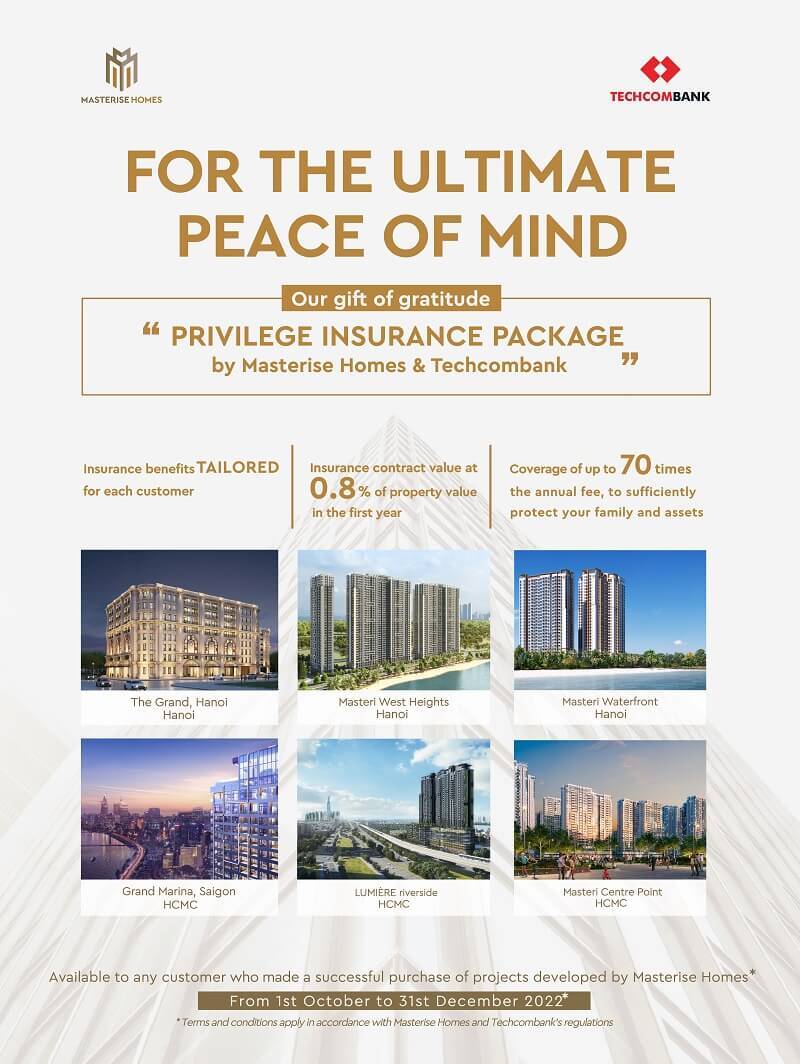 PRIVILEGED INSURANCE PACKAGE WITH DIFFERENTIATED BENEFITS:
Insurance benefits tailored for each customer
Insurance contract at 0.8% value of the real estate in the first year (*)
Coverage of up to 70 times the annual fee, to sufficiently protect your family and assets
(*) Terms and conditions apply in accordance with Masterise Homes and Techcombank's regulations.
ABOUT THE PROGRAM:
1. Gift: Privileged insurance package from Manulife, distributed by Techcombank
2. Gift type: Personal customers who are Eligible applicants shall receive the gift via bank transfer directly to customer's bank account at Techcombank for payment to insurance fee according to Insurance contract between customer and Manulife Vietnam; or cashback to customer's Techcombank checking account after joining the insurance contract at 0.8% value of the real estate (net value after discount, not including maintenance fee) in the first year.
3. Program duration: From 1st October 2021 to 31st December 2022 (both dates inclusive) or until official notice of program completion, which ever date comes first.
4. Eligible applicants: Personal customer during the program duration who made a successful transaction of projects developed or represented by Masterise Homes and announced by Masterise Homes from time to time (hereby called "General condition"), participates in the insurance contract stipulated by the program and satisfies one of these following conditions:
4.1 Customer is identified as a member of Techcombank Priority Banking service (*) from the point customer satisfies General condition to the closing of the program.
4.2 Customer owned Techcombank payment package
4.3 Customer owned Techcombank credit card
4.4 Customer has Techcombank Mortgage Loan offerings for the purpose of property payment at projects (maximum 100% according to actual demand)
4.5 Customer referred by the customers satisfied one of the aforementioned conditions.
(*) If customer is not a member of Techcombank Priority Banking, customer can opt for having a Savings account/Bond/Bao Loc certificate/Investment product valued from 500 million VND to 1 billion VND at time-deposit from 1 to 3 months.
For the customers satisfied one of the aforementioned conditions from 4.1 to 4.4, they must be on the list of customer eligible to the offer notified by Techcombank/Developer and must complete the procedures for acceptance confirmation to participate in the program in accordance with Techcombank's regulations during the program duration.
Additional conditions for foreign customers:
- Customer is currently living and working in Vietnam
- Customer must meet all eligible conditions of the program
- Customer is not on embargo list
- Customer must have Temporary Residence Card, and fulfill specific form on permanent residence and other requirements
- If customer holds Japanese nationality, a separate form is required
- If customer is an American citizen or American taxpayer, or fulfill any of following 8 remarks, customer must complete FATCA declaration form:
American citizen or permanent resident in the USA (Customer holds American passport or residential paperwork in the USA)
Born in the USA
P.O box address or temporary residence in the USA (if not permanently resided)
Has an American telephone number
Money-transfer to account is instructed to be maintained in the USA
Authorized or has the power of attorney to a person residing in the USA
P.O box address in the USA is the only address specified in account holder's file
CAS identifies customer as an American individual
Note: In case customer does not complete all FATCA forms when any of the aforementioned remarks is applicable, Insurance contract shall be rejected, and the fee will be refunded.
5. Other conditions:
5.1. Customers who receive the gift under this program may be required to pay irregular income tax, fees and charges (if any) in accordance with applicable laws. In case irregular income tax is applied, customer agrees that Techcombank and/or the Developer will deduct the irregular income tax, fees, and charges (if any) accordingly on the value of the gift and pay on behalf of the customer to the competent authority.
5.2. Techcombank and/or the Developer reserves all rights to disqualify any customer who provide incomplete, erroneous or unclear information, or violate any terms and conditions of the program
5.3. By participating in this program, customer irrevocably consents to the use of his/her name and photograph for Techcombank and/or the Developer's advertising, promotional or other commercial purposes.
5.4. Techcombank and/or the Developer, and/or their affiliates, respective directors, employees and representatives of Techcombank and/or the Developer and/or their affiliates shall not be liable for any loss or damage that arises out of or in connection with the program, or personal injury or death caused by participating in or benefit from the program, except for such responsibilities as may be required by law.
5.5. In the event of a dispute related to this program, Techcombank is directly responsible for resolving the dispute. If an agreement cannot be reached, the parties are entitled to initiate a lawsuit to the competent People's Court to resolve the dispute according to the provisions of current law.
5.6. The duration for Techcombank and/or the Developer to receive and resolve customer inquiries and complaints about the results of the program is 90 days from the end of the program. Any questions or complaints afterwards will not be resolved.
ELIGIBLE PROJECTS FOR THE PROGRAM:
The Grand, Hanoi
Grand Marina, Saigon
LUMIÈRE riverside
Masteri West Heights
Masteri Waterfront
Masteri Centre Point
For further details, contact Masterise Homes:
📞028 3915 9159
📧 sales@masterisehomes.com
This Program information only provides general contents of the program. Details on benefits and conditions of the program will comply with the Promotional Notice received by the Department of Industry and Trade from time to time in accordance with agreement between Masterise Homes and Techcombank.